Sliding glass doors that overlook your patio or garden can be a great feature in your home. However, many people think that heavy curtains are their only option for covering these doors. It doesn't have to be the case! There are ways you can cover your doors and still let in the natural light.
One of the best things about plantation shutters is that they can be used for more than just windows. They make a great alternative to curtains for both traditional hinged French doors and sliding patio doors. This is becoming increasingly popular, especially in modern homes.
Benefits of Plantation Shutters on Patio Doors
Plantation shutters are a great match for French and patio doors because they make your home design look like it was specifically designed to have them. Their elegance, timelessness, and style complement any interior with ease – accentuating home décor rather than overpowering it.
Made to measure sizes to fit any patio door
There are a lot of challenges that come with trying to find affordable window dressings for patio doors. It is especially true when the measurements of the door exceed the standard measurements that are typically used for ready-made blinds and curtains. However, plantation shutters provide a solution for this problem as they can be made to measure so that they can cover any window or door regardless of its shape or size.
Enhance the look of your home's aesthetic
Adding shutters to your patio doors is a great way to improve the look of any space in your home. Plantation shutters for patio doors not only provide light and privacy control but can also completely transform the appearance of a room. Whether you want to accentuate your patio doors or finish off a new extension, shutters are an excellent way to add style and sophistication. They also look great on surrounding windows for a coordinated look.
A great way of creating natural mood lighting
No other window covering offers the same level of flexibility as shutters. You can enjoy natural sunlight streaming in by keeping them open or closing them tight to create a dark and cozy space. Additionally, the louvers on shutters can be adjusted to filter light in different directions, making it easy to create unique lighting effects. Whether you want bright and airy or warm and inviting, window shutters give you the power to transform your home's atmosphere.
A natural barrier for pet owners or parents with young children
As parents or pet owners, we want to keep our patio doors open during the summer to let air circulate through the house. However, this can be difficult to do without worrying about children or animals wandering outside. Window shutters offer the perfect solution – by keeping the doors open and the shutters closed, you create a natural barrier that will prevent any escapees. But at the same time, you can tilt the louvers to allow as much light and air into the room as you like.
Keep your home energy efficient with advanced insulation
Most heat loss from residences occurs through doors and windows. Installing plantation shutters is a great way to prevent heat loss in your home. Plantation shutters serve as an additional layer to window and door areas to help insulate a room. Shutters help to insulate a room by absorbing heat and providing a physical barrier between doors and indoor spaces. This way allows for less heat from inside to escape through windows and doors.
Easy to maintain entirely dust-free and clean
There's no doubt that plantation shutters are an extremely low-maintenance window covering option. You can make any shutters look brand new again with just a few quick swipes from a duster and moist cloth. Not to mention, shutters prevent any concealed dust from accumulating on surfaces like they might with cloth window treatments. With shutters, there's no place for dust or other allergens to hide; even on full-height shutters, a feather duster can easily reach the top!
Types of Plantation Shutter for Patio Doors
Plantation shutters are a great way to dress up both traditional hinged French and patio doors. There are a variety of shutter design options available for French and patio doors, so you can choose the look that best suits your taste. Some popular designs for patio door shutters include:
Full-height shutters
Shutters that cover the entire height of a window or door are known as "full-height shutters." These shutters provide the best coverage and protection for French and patio doors and come with a mid-rail to allow for independent operation of the top and bottom sets of slats. 3-sided frames with a mid rail are the most popular type of full-height shutter, as they provide good light control while still letting in plenty of light.
Half-solid panel shutters
A part solid, part louvered style is built with a 3-sided frame containing a solid shutter on the bottom half of the door, with slats on the top half. This design is perfect for those who want an easy-to-clean lower section while still enjoying a traditional look and feel. Part solid, part louvered shutters help break up the overall shutter design – perfect for patio doors that have shorter side windows.
Tracked shutters
Tracked shutters are installed with a track system, which allows them to be opened and closed with ease. Tracked shutters are a great choice for those who want to be able to open and close their window treatments daily, as well as for those with wider windows who don't want the extra weight of a framework.
Plantation shutters installed on tracks that slide (by-pass) provide an attractive way to control light and privacy while enhancing the look of your windows. Bypass shutters have a track installed at the top and a guide channel at the bottom so they can slide to any position on the tracks, or stack behind each other. They can even slide into wall cavities since they remain parallel to the window.
Folding plantation shutters fold out of the way against an adjoining wall, making them a great option for rooms where space is limited. This installation requires some space beside the door reveal as the panels need somewhere to stack, but it's worth it for the added beauty and function they bring to your home.
Cost of Plantation Shutters for Patio Doors
HomeAdvisor estimates that plantation shutters for a standard-size sliding glass door (80-inches by 60-inches) will cost approximately $860. Larger panels for sliding glass doors (80-inches by 72-inches) will cost around $1,040. The final price of your shutters will depend on the size and material you choose, as well as any customizations you may want. Below, we explore some of these factors in more detail.
The overall size of the patio door shutters
Because all patio door shutters are custom-made to fit, the price of your door shutter will depend on the size of your opening. Prices can vary between a few hundred dollars to over a thousand dollars.
The material used in the patio door shutters
There are three choices of materials for shutters: wood, PVC, and composite. In general, real wood shutters are the most expensive, vinyl shutters are the cheapest, and composite shutters are something in-between. Here's a list of some of the most popular materials for shutters.
The design style of the patio door shutters
The style of shutter you choose also affects the cost. Generally, the more intricate the design, the higher the price. Giving your shutter a bespoke treatment instead of a standard one that considerably more time and effort will be put into its creation, meaning higher costs.
3 Tips on Choosing Shutters for Your Patio Doors
Your patio door shutters are more than just a great way to add style and personality to your home. They can also provide many functional benefits, like letting natural light into your space and providing easy access to your patio or balcony. But did you know that choosing the right shutters for your patio doors can make a big difference in both the look and function of your space?
Here are some things to keep in mind when choosing shutters for your patio doors:
Know your custom options for your patio door shutters
Track system – By-pass shutters are a great option for doors when you don't have a lot of space in front of your door or if you want a low-maintenance but durable shutter. Bi-fold shutters need an overhead track, and will therefore fold like an accordion, so if you're planning on installing bifold shutters, make sure to factor in an additional inch or two of backspace.
Mounted inside – Installing shutters on the inside of your opening is the best way to go if you have decorative trim or molding around it. This way, the shutters will attach directly to the door frame with hinges. This is sometimes referred to as an "L" frame.
Mounted outside – Installing shutters on the outside of your opening is the best way to go if you don't have decorative trim or molding around it. This way, an 'L' frame goes outside your opening, while a 'Z' frame overlaps the corners of your door.
Louver size options – 2 ½-inch louver is the most traditional size. 3-inch shutters can have a traditional design or be grander, depending on your needs. 3 ½-inch louver shutters provide the perfect balance of beauty and privacy. Shutters with louvers of 4 ½ inches wide are an excellent choice for large windows that offer a stunning view.
Tilt rod options – When it comes to tilting control, two options are most popular. The first is the center tilt rod and the other is the invisible tilt control. Invisible tilt control has a sleek, contemporary look. If you want to upgrade your shutters, this might be the option for you. Split tilt might be another good option, which allows independent tilt in multiple zones of the panel. This feature has been popular in dining rooms and bathrooms.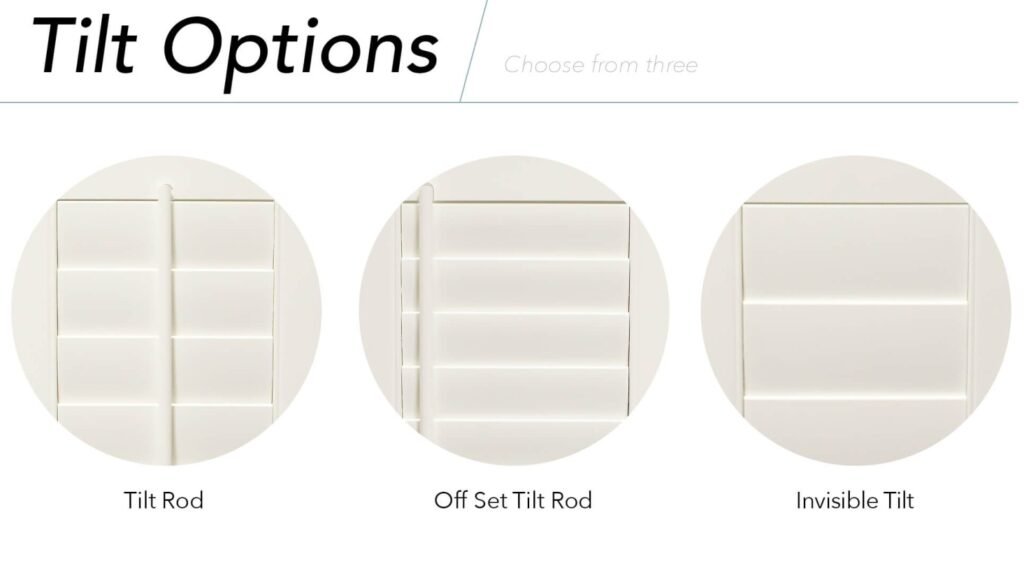 Choose the material for your patio door shutters
The material is one important factor to consider. Shutters come in wood, composite wood, and vinyl options, each with its own set of benefits and drawbacks. Solid timber shutters are a popular choice for those who want a classic look for their home. The material you choose for your shutters will mostly depend on your budget and the look you're after.
Solid wood plantation shutters are typically the most expensive option, while composite shutters are usually more affordable. Some materials are better suited for particular rooms than others. For instance, polyvinyl shutters are resistant to moisture and warping, making them a good choice for bathrooms.
Consider the color of the overall interior design style
If you're looking for shutter doors that will match the rest of your room's decor, you have a few different options. You can choose doors in the same color scheme as the rest of the room, or you can go for a complementary color. If you have a strong color scheme already, it might be best to keep your door shutters muted.