In this guide, we'll answer your frequently asked questions about bay window shutters and hopefully, make your shutters window-shopping experience smooth. We will give you some key info about bay windows, what affects the price of bay window shutters, how you can save money, and how to find professional plantation shutters suppliers.
Know What You Are Getting from Plantation Shutters
Bay windows were always notoriously difficult to cover. Their odd angles, configurations, and size made it difficult to find off-the-shelf window dressing solutions that fulfilled all the necessary tasks of window treatment, such as creating an attractive look for the window without being obtrusive.
Custom-made bay window shutters will not only fit your practical needs but will also create the warm, cozy atmosphere you and your family so desperately desire. Today, plantation shutters are as popular as ever, not just for their ability to manage heat, light, security, and privacy for the home, but for their elegant and timeless look.
Customizability
Plantation shutters can be painted to match your interior decor. It is a great way to beautify your home. These beautiful, stylish shutters are custom-sized to fit in any window – come in various sizes, colors and designs to help you select the right set for your needs.
Light Control & Privacy Protection
Plantation shutters for bay windows give homeowners a chance to open up their living space without diminishing their privacy. They can keep an eye out for the natural beauty of their surroundings and maintain the amount of privacy they like.
Insulation Effect & UV Protection
Plantation shutters can act as another layer of insulation – installed to the millimeter and perfect with the frame. Like double glazing in a house or UV protection on a car window, plantation shutters help keep warmth in during the winter and protect from the heat in summer.
Child Safety
Plantation shutters do not have hazardous cords or chains that often cause serious accidents to children and pets. Plantation shutters are a clean and simple design, ideal for nurseries, children's rooms, and playrooms.
High Durability & Add Value
Most shutters have a durable, long life span — they can last anywhere from five to twenty years. It's a testament to its quality and how much they hold up over time. You don't need to change them often, and they're still valuable when you do.
Easy to Clean
Plantation shutters are the most hassle-free windowing covering ever. And can help you save on the cost of washing or cleaning the drapes or curtains. You can use a damp cloth to wipe over the shutter blades and use dust trapping hand wipers when cleaning the shutters.
Evaluate The Cost of Shutters for A Bay Window
Plantation shutters can be used on bay windows, and they are priced based on the size of the window being covered and the kind of material used. Several different factors influence the cost of plantation shutters. We explore these below.
The overall size of the window
The number and size of shutter panels will affect your price. A three-panel window shutter will cost less than a five-panel window shutter because the five-panel window shutter will require more material to cover.
The material used in the shutters
There are three choices of materials for shutters: wood, PVC, and composite. In general, hardwood shutters are the most expensive, vinyl shutters are the cheapest, and composite or faux wood shutters are something in-between.
The style of shutters
The style of shutter you choose also affects the cost. Generally, the more intricate the design, the higher the price. Giving your shutter a bespoke treatment instead of a standard one that considerably more time and effort will be put into its creation, meaning higher costs.
Choose The Right Style of Shutters for Your Bay
Bay windows are typically found as three angled sections of windows protruding to the outside. Covering these windows in beautifully-fitted shutters can be a challenging task. One of the most common types of plantation shutters used for bay windows is full height shutters, solid panel shutters, tier-on-tier shutters, and cafe-style shutters each has its unique style and offers a lot of shade without sacrificing privacy.
Solid panel shutters
Solid panel shutters give a highly polished Victorian look to period homes and a beautiful modern look to modern homes. They don't have louvers. This type of plantation shutter controls the light by being either open or shut.
Tier-on-tier shutters 
Tier-on-tier shutters can cover the entire windows, and they are ideal for really long windows. Tier-on-tier shutters can provide privacy for the rooms or spaces below them. The top tier operates independently from the lower tier, so you can have one group of shutters open and the other shutters closed.
Cafe style shutters
If you have bay windows with a shorter windowpane, consider cafe-style shutters. These can cover only the lower part of the window, but this will give you plenty of light while still keeping your privacy. These shutters can also be installed with curtains.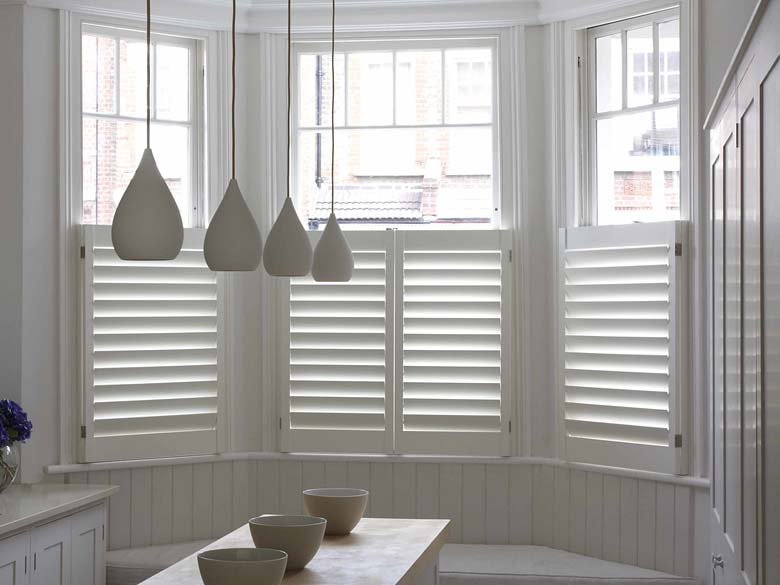 Full height shutters
Full-height plantation shutters are a stylish and classic way to cover up bay windows. This type of shutter is becoming increasingly popular in the interior decorating world.
Step by Step Guides on Measuring Bay Windows
Bay windows are one of the most common types of windows used in homes in the UK. Measuring bay window shutters for a quote is pretty simple, you only have to measure the height once. Suppose you have a bay window with three sections. In that case, every bay will have three widths and three heights (all heights are the same). If you have one with four sections, there are four widths and four heights. In general, a bay window can have a maximum of 8 or 9 sections, and each window must have its shutter.
Certain dimensions need to be measured when ordering custom shutters for bay windows. It's important to make sure you specify the measurements of the windows, including any specifications, rather than just describing the window's dimensions. Once you have done this and given your shutter manufacturer all the information they need, they will come up with a shutter design that is perfect for your needs and get your order started.
You don't have to have the exact sizes to get a quote! A rough estimate is enough to give you an idea of the cost, and this is how you do it:
The position where your templates will go. Remember not to position them in front of the window handles to make sure you still have room to open them up. Measure how wide each section is, including the templates;
Measure the height of each section. For this scenario, you need to make sure that the height is the same for each window – this will help with the installation of the rail;
Measure from the bottom right point to the height you want your mid-rail to be mounted.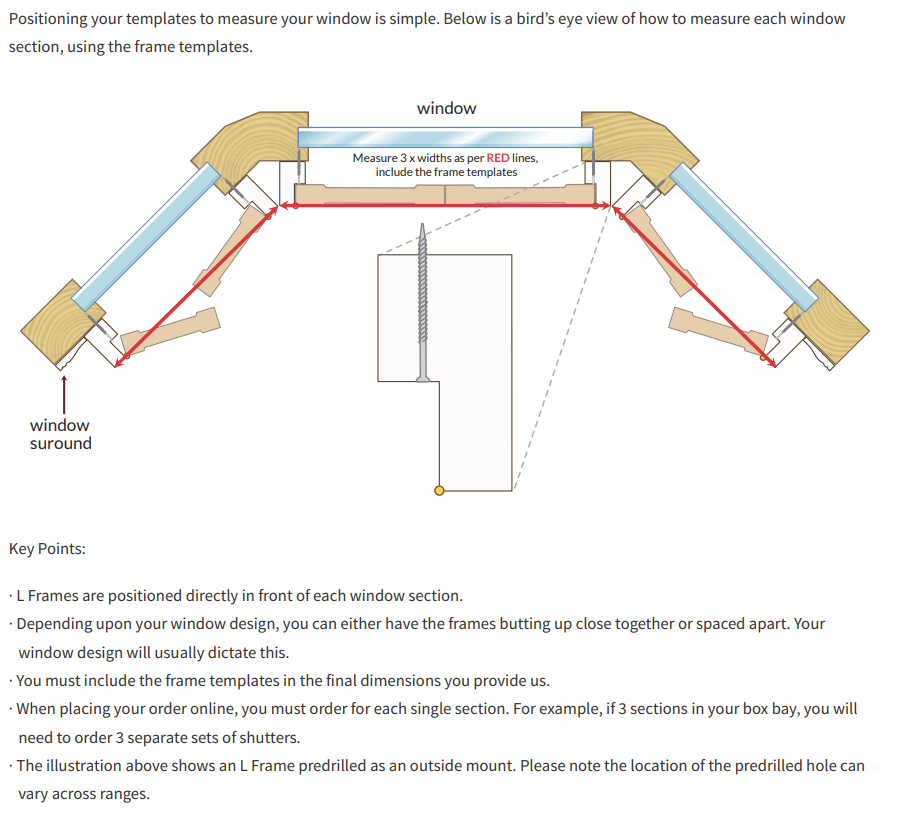 Look for A Great Offer At Shutters for A Bay Window
Choosing plantation shutter suppliers can be confusing. You might think about going with whoever is the cheapest, but there other factors to consider. For example, if you purchase from a reputable supplier, you can avoid feeling frustrated when you need to buy additional supplies or want to replace your shutters in the future.
First, your friends and neighbors are the best sources of which plantation shutters manufacturer to consider and which to avoid! They have been there, installed them, purchased them, and know which ones will make your house the envy of the neighborhood.
Next, there is a lot to consider when buying, so choose a plantation shutters company that gives you a good vibe. The process of buying plantation shutters usually takes more than one visit, phone call, and conversation, so be prepared with all of your questions.
Then, it is essential to find a showroom with an appealing and comfortable design. It is also crucial to choose a sales representative that you like, as they are the ones who will help decide your tastes, the correct applications, and the perfect color palette.
Lastly, it's crucial to make sure you're with a company of high standing. We all know that some people will use your intentions against you, so find a company with a good reputation and a good track record.
If you're purchasing shutters from a plantation shutters factory that typically offers installation with the purchase, ensure installation is part of the package. If not, it will likely be included in their quote and add about 30% to the cost.
Installation Guide: Professional Services or Self-fit?
There are many reasons to hire a professional for shutter installation. For one, the shutter manufacturers have all the necessary tools and equipment. Most importantly, experience to ensure that the installations go smoothly. They work closely with the plantation shutters factory and can provide you with information about the production if you need it. More than that, they'll come to your home and install your shutters as soon as they're delivered. Even better, they take away all of the rubbish after installation is done, so you won't have to make any more trips to the dump in your already busy schedule.
However, if you have a drill and some DIY experience, then you might be able to install your shutters. Hanging them yourself can be a tedious process, but following the manufacturer's instructions carefully can make it go a lot smoother. Writing down the steps beforehand and having paper and pen handy can be helpful. Always contact the shutters manufacturer if you have any questions.
Even though you can install shutters by yourself to save money, they are still a big investment, and I don't want you to risk spending a lot of money on them and ending up with a fit that wasn't quite right, so make sure you do your research before starting the installation.
Tips on Plantation Shutters Care & Maintenance
Maintaining your plantation shutters is important for long-term utility. Regularly cleaning them is the key. You should vacuum, dust, or use a dry fiber cloth once per week. It's typically best to avoid soapy water or harsh cleaning materials, as they may damage the finish. Cleaning your shutters is a great way to make sure you get the most out of your investment in the long run.
Every 1-2 months, inspect your shutters for build-ups in crevices and then clear them away with a dusting brush (or a toothbrush). Tighten the louvers occasionally to make sure they aren't twisted. To maintain that new look on your hardwood shutters, use a soft cloth to apply a furniture polish every 3-6 months.