Plantation shutters and curtains are both great ways to improve the look of your home. When installed professionally, both make a huge impact on the way your home looks. If you're on the lookout for plantation shutters, there are several things you need to consider. Here's everything you need to know about plantation shutters and curtains.
Why Plantation Shutters and Curtains Are Effective Combinations?
Most people use window coverings to block out sunlight, while others buy them to conceal a view or make their home look more attractive. But did you know that in addition to these obvious reasons, there are many benefits of plantation shutters and curtains that you may not be aware of? Keep reading to learn more about these features.
Mixing Plantation Shutters and Curtains for Light Control Levels
Pairing curtains and shutters together gave functional advantages as well. For example, if you wanted your view to be completely exposed, a sheer curtain would allow you to do so. The light from the passers-by can easily enter the room, but it does filter out much of the glare and reduces bugs from entering. If you wanted to filter out light and glare, a sheer curtain would protect you from the outside world and reduce bugs from entering the room.
If you aim to create complete darkness, you should consider adding a curtain to block out light from a room. Larger louvers on your blinds will mean fewer slats and fewer light gaps, which will go a long way in achieving the desired level of darkness.
To block out the maximum amount of sunlight, you should get shutters with blinds. With these, the window covering is two layers deep: the shutters and the blind. The blind can be pulled down when the shutter is open, and they remain in place while the louvers are either closed or opened.
Mixing Plantation Shutters and Curtains For A Boutique Look
The best thing about pairing shutters with custom curtains – in addition to the high contrast in textures – is bringing a boutique vibe to your home. Wooden shutters make your windows sleek and presentable, while curtain fabric helps soften the look and feel of your living space.
Curtains can supplement window shutters well, as they add both elegance and decoration to a window. Curtains are also popular in many homes because they provide a classic look and can match the decor of the room. Curtains are also popular in very large or period rooms to highlight the grandeur of the window, while they're also common in small rooms where they can create an illusion of height.
Mixing Plantation Shutters and Curtains for A Cooler Interior
Coupling curtains with shutters allow you to add a touch of creativity and flexibility to the décor of a room. Our survey found that 99% of respondents would choose a neutral color shutter for their living room because it allows them greater flexibility to update or change the décor in their home.
You can experiment with contrasting curtains and shutters for a bold, interesting look and easily change your window dressing whenever you want. Having different curtains and shutters in contrasting colors can add depth to the window and make it stand out from the décor. You can also choose fancy prints and patterns to get an even more unique design or try some regal tiebacks for a more tailored look.
Which Room Should Have Plantation Shutters and Curtains?
When homeowners use curtains with plantation shutters, the most common installation spot is in the living room or bedroom. It is because curtains can make a room feel cozier. They are also frequently installed in the kitchen or dining area. However, many people decide to skip curtains in every room of the house.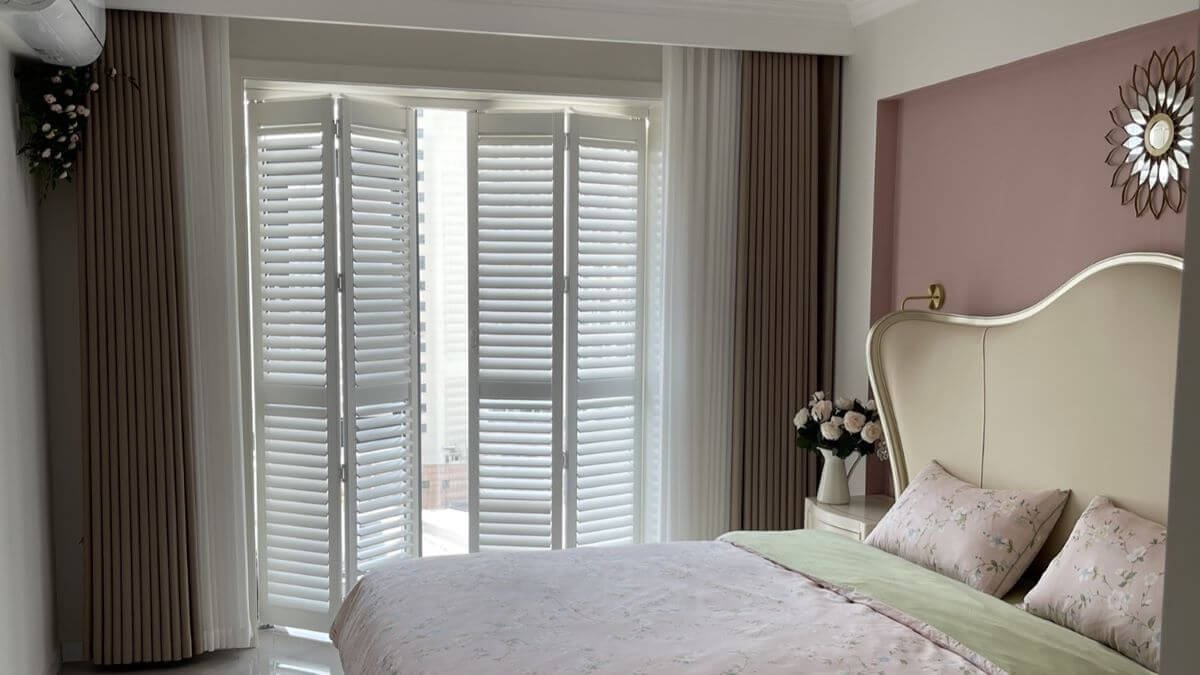 Plantation shutters are considered a much safer window treatment than blinds or curtains when it comes to children's bedrooms. Compare them to the other options: Plantation shutters don't have dangling materials, while curtains and blinds may confuse curious young children and cause them to wrap themselves up in the fabric. This could easily lead to curtain rods collapsing. If you choose to use curtains in your nursery, opt for valances or fabrics that don't reach the ground. Move your child's bed or favorite belongings (like their toy box) away from the window.
How To Make Curtains Work With Plantation Shutters?
When you decide to change up the design of your room, add some color, or block out light altogether, curtains can be used to give you both privacy and flexibility in your design. Here's how to make curtains work with plantation shutters in your home.
Use Hanging Panel Curtains
To let the natural (or artificial) light into your home, use panel curtains instead of roman or roller shades. You will get the beautiful look that curtains can bring to a room and be able to easily pull them aside when you want to enjoy the light from your shutters. Another advantage is that panel curtains can be easily switched out with different colors and patterns if you change up your room design.
Mount the Curtains Upward and Outward
For curtains to work best with your plantation shutters, you'll want a curtain rod that is just the right size to allow for pushing the curtains over to open the shutters. In addition, the guidelines recommend mounting your drapery rod higher than the window frame. Mounting it closer to the ceiling will make your windows appear taller which will, in turn, add some visual height to your room.
Add Tiebacks For A Formal Look
Install tiebacks or holdbacks on each side of the windows to make your curtains look more tailored. Tiebacks are made of rope, fabric, or other material and wrap around the curtain to gather it together. Holdbacks are mounted on the sides of the window frame and pull the curtains to the side. While tiebacks and holdbacks both do the same thing, they may be used in different circumstances.
For example, tiebacks may be used when you want to frame an item in the window, such as a bay window, bed, or window seat. Holdbacks may also be used in these instances but are also popular when you want your curtains to hang straight down.
Few More Tips On Mixing Plantation Shutters and Curtains
Do choose shutters before curtains is a good idea because they provide instant privacy and will be the more permanent fixture in your room. Pale shades work especially well, and you can also complement them with a bolder curtain.
Do ensure that your curtain rod is long enough to fully expose your shutters and that it also matches both your shutters and curtains. You need to think about the material/finish and color of shutters and curtains without making them clash.
Do make sure the curtains are wider than the window frame and fall to the floor when measuring for curtains. Curtains with shutters work best when the curtain pole is raised higher than the window and falls floor length.
Don't be afraid of mixing shutter styles. You might think it's a strange or unusual style choice, but, with some consideration, it can be fabulous and elegant.
Don't hang the curtains before installing your shutters. When you install the shutters, you may find that you need to move the curtain pole or rehang it to make sure it doesn't obstruct the shutter.
Don't select two dark shades or bold colors of plantation shutters and curtains, as it may make the room look busy. If you don't like light-colored shutters and curtains, you can include a beautiful design on any curtain. But if you do want something with a bit more personality, reserve this bolder choice for the curtains only.
Plantation Shutters From Goodwood Shutters
Goodwood Shutters is a plantation shutters factory with highly efficient production facilities in Xiamen, Shanghai, and Shandong, enabling us to offer services promptly to our international clients. Servicing window coverings trade suppliers, resellers, and millwork manufacturers.
Goodwood Shutters has a strong track record in creating value through partnerships with several companies – global players. We work in close cooperation with leading brands in the US, UK, Australia, and South Africa to provide an extensive range of high-quality plantation shutters and components. Whether you are shutter importers, brand owners, distributors, wholesalers, or retailers, you can benefit from importing plantation shutters from us.
At Goodwood Shutters, the two main functions are to find a way of bringing the very best product to our customers at the very best value for money. Also, have to deliver that product in such a way as to create the highest level of positive purchasing experience possible.
Get An Instant Quote Today
As a leading manufacturer of wholesale plantation shutters in China, we offer an enormous range of shutter materials, from entry-level affordable pine shutters to premium basswood, ashwood shutters, or Waterproof Polyvinyl. From durability to function, to custom color options, Goodwood Shutters can supply a wide range of custom plantation shutters to suit every budget.
Having a shutter design and looking for plantation shutters manufacturers to bring it to life? Count on us! Goodwood Shutters are very competitively priced with a quick turnaround time and can be custom-made according to your specifications that will suit your specific application perfectly.